How I got my job at Card Player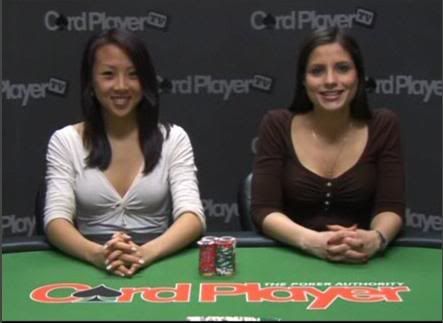 For those who don't know me, I currently work as Video Host and Magazine Writer for Card Player Magazine and CardPlayer.com. Three years ago, this was my absolute dream job! I'm so lucky to have snagged it, and tons of people ask me how I got my start at Card Player, so here's my story (If you don't know poker players, this might not be very interesting to you)When I was 20-years-old, and a junior in college back in Indiana, I used to sit in front of the computer late at night and watch Card Player videos. I especially liked the ones from the 2005 World Series of Poker because I saw that interns were doing video reports from the floor. All I could think was, "I want to do that."
I searched around for any kind of information I could get on internships available in poker. I found an article written by Rich Belsky about how he started as an intern at Card Player, turned it into a full-time job, and eventually became the editor of Card Player College. I was riveted.
I continued going to class, playing soccer, and getting into poker games whenever I could. Andrew, my boyfriend at the time and now fiancé, and I bounced around the Fort Wayne poker scene. There were underground cash games, bar leagues (I had a fake ID from Connecticut), and home games galore. With Andrew playing for a living, it often made it difficult for me to want to go to class after all-nighters at the table, but I managed to attend just enough classes to get by, and whenever I actually did go to class, I was reading poker strategy articles anyway.
At the end of my junior year, I met with Alison Hoff who helped sign up for a program called the National Student Exchange. It would allow me to go to another school in the program for a year or semester and pay the exact same tuition as I paid at my school. Seeing as how I was on an academic and soccer scholarship, I couldn't resist. As I browsed the list of options, one in particular caught my eye-- The University of Nevada Las Vegas. Wow, could I actually live in Vegas? I signed up and put UNLV as my first choice.
Fortunately, I was accepted. I had one more year of soccer, so I decided that I would go to UNLV for the spring semester of 2007. Andrew was coming with me whether he liked it or not :)
I had a pretty turbulent summer dealing with a health situation that was scary and unexpected. I was lucky, and the cancerous melon-sized tumor I had on my ovary was removed without a hitch. With a new found respect for the time we have on earth, I was especially gung-ho about taking chances.
At the time, Myspace was, in my own words, "THE SUPER SHIZA," and I'd just gotten an account. I found that tons of poker players had profiles. I thought, "Hey, life is short. I'm going to send these players a message!"
This is SOOOO embarrassing… but I'm going to share with you guys a few of those messages. I'm such a nerd. Also, keep in mind I didn't have much writing experience yet! Haha it makes me cringe reading what I wrote. (this is copy pasted btw) These players are so sweet for responding to their fans.
To: Evelyn Ng
I just wanted to tell you that you have been one my poker idols for the two years I have been playing poker. You are so beautiful and have so much class. You and Liz are my inspirations and hope to be as successful as you two in poker someday.
Her Reply: Aww, thanks Kristy. Good luck with poker and everything, and hope to meet you on tour someday. Evelyn
****
To: Daniel Negreanu
Is this really Daniel? I am a huge fan and it would be said if you were someone just pretending to be him. If you are, I wanted to say how much I admire you. I've learned so much from you and hope to see you across the table someday. Thanks, Kristy
His Reply: Is this really Kristy? I am also a huge fan of yours!! Haha yes this is really Daniel, well anyway thanks for your support, goodluck to you and I hope to see you across the table someday as well. Hopefully not taking any of my chips.
****
To: Mark Seif
I love your style and the way you play power poker. I'm a huge fan and you have influenced my improvement. You are my inspiration when it comes to adding aggression and power to my game. As a budding poker player who takes the game seriously, I would like to tell you that I admire the way you play.
His Reply: Wow- thanks so much for the kind words and best of luck in your poker career! M
My Reply: Hey I was wondering if there was any reason you kept call John Juanda a, "Luck Box," when you were commenting for the PPT. My friends and I think that term is really funny and just wanted to see if there was any reason behind it. Thanks, your always adoring fan...
His Reply: Cause he is!! We have been calling him that for years cause for a while he kept getting his money in bad but sucking out big time
*****
I thought it was so great that these players took time out to actually respond to me. Then, I found CardPlayer.com's Myspace page, and studied a couple profiles that were featured in its "Top Friends." One of them was Rich Belsky and the other was Lisa Wheeler. Under her job description, it said she was a writer and photographer for Card Player magazine. I thought that it was so AWESOME! I decided to go out on a limb and send them both a message. Lisa replied the next day.
To: Lisa Wheeler Your career and success as a woman has made you a role model for me instantly. I am a 20 year old woman, and going to school with a major in communications and a minor in journalism. I am moving to Las Vegas in December to attend UNLV to finish school and look for future job opportunities. I was wondering if you had any tips for me in terms of getting on the right path for success. Does CardPlayer offer internships? I love poker, and I love writing, so naturally I think that you have the best job. I hope you don't mind, but I thought I would at least try to pick the brain of someone successful with my dream job... (well, aside my secret professional poker player ambitions ;) ) Thank you for time, Kristy Arnett.
Her Reply: Dear Kristy, You are too sweet. I am forwarding this message to our intern manager right away. I would love to have you work with me during next year's World Series of Poker. When are you going to turn 21? Look me up as soon as you get to Las Vegas. I can't promise anything, but I am sure our team would love to include you in our internship program. Until then, Lisa Wheeler
****
I almost pooped my pants from excitement! (that was an exaggeration… just so you know) The next few months went so slowly. I was so excited to move to Vegas. I recovered decently enough from my surgery to play my last soccer season ever. Of course, I continued checking Card Player everyday. I saw that Rich Belsky was doing videos along with a beautiful girl named Lizzy Harrison. I was so envious. Now THAT, was my DREAM job. By the time the New Year neared, I was ready to get outta dodge.
Andrew and I packed up our lives in two cars and drove out to Vegas with Tmo (Andrew's brother, and mine now too) and his gf at the time. We all gasped with awe as soon as we saw the city lights illuminating the dessert. It was amazing.
Once school started, I went to UNLV two days a week and played poker everyday with Andrew. I landed an interview with Card Player, thanks to Lisa, and I got lucky that they needed help in the editorial department. I didn't have to wait for the summer. They hired me immediately, and I started out working three days a week. I couldn't have been happier. I walked around the Card Player office with a cheesy smile on my face. I loved it. My articles started out pretty basic, but this was my first real article:
Many Poker Pros Donate a Portion of Winnings

There's More Than One 'Robin Hood of Poker' Playing the Game

By Kristy Arnett

Poker is a game in which success is measured by the amount of money in one's bankroll and played in a world of extreme wealth contrasted against a world of poverty. All things considered, the generosity by many poker players demonstrates the humanity that can be served through the game, and it can be truly inspirational.

The poker player most famous for his charitable donations is Barry Greenstein, who is also known as "The Robin Hood of Poker." Greenstein has accumulated nearly $5.5 million in tournament wins and donates 100 percent of it to charity.

Greenstein, along with Victor Ramdin and Phil Ivey, have also contributed significantly to Guyana Watch, an organization that provides medical supplies and attention to the small South American country. Ramdin donated $100,000 and Ivey's contributions to charity closely resembles his presence at the poker table — quiet and under the radar, but hugely significant.

Remembering Their Roots

Not all poker players are born into the luxury-filled lives that they live in now. Many come from extremely modest beginnings. Men "The Master" Nguyen escaped from the communist regime of Vietnam by boat to the United States decades ago but has not forgotten where he came from. He visits his home country frequently to do charity work including building temples and schools.

Liz Lieu and John Phan, came together in an effort to facilitate change in their birth country. They visit Vietnam a few times a year for charity work and, on their most recent trip together, bought 20 tons of rice to distribute to poor villages, children's orphanages, elderly homes, and temples. Both also support the Make a Wish Foundation and donate a percentage of their tournament wins to the Multiple Sclerosis Society.

Poker Community Unites

The Baby Hannum organization has gained the support of many in the poker community. The foundation was formed after the death of a beloved World Poker Tour photographer Paul Hannum, who was engaged to Sarah Percy. She was seven months pregnant with their child at the time of his passing. With the leadership of WPT Player of the Year Gavin Smith, a tournament was held the night before the WPT Legends of Poker main event in the name of Baby Hannum.

The $1,000 buy-in attracted 115 players. Jennifer Tilly won the first-place prize money but graciously turned it down to give it back to the charity.

The main event the next day showcased more compassion from poker players for the Baby Hannum organization. Scotty Nguyen, a father-to-be at the time, convinced the final table to donate a portion of their winnings. The winner, Joe Pelton, donated two times more than anyone else.

So while the success of poker players is oftentimes measured by the amount of profit they amass through playing the game, many measure a successful life using different standards, such as philanthropy. For the poker pros who give, poker is not just a game, nor just their profession; it is a way to give back and contribute to their own measure of success.
********
I worked so hard in the editorial department, and began expressing interest in doing videos. Lizzy was incredibly sweet (still is obv) and supportive of getting me into the multimedia department. I got my chance when she went out of town for a couple days. I got to co host, The Daily Deal. I'd post a link of my first video, but not only can I not find it, but it's also absolutely HORRIBLE! I was so nervous I couldn't breathe!!
I improved a little and was given the opportunity to work with the multimedia team for the summer during the WSOP. It was soooo much fun! Haha, but the first time I actually interviewed a player, I called John Phan, David Pham! OMG I knew who he was too, I just saw David Pham walking by and I was sooo nervous.
Anyway, after that, Card Player hired me full-time, and I've been doing it ever since. I have to thank Lisa Wheeler for going out on limb, and giving me, the random girl from myspace who she saw potential in, an opportunity, and of course, for being my mentor. I've met so many wonderful people and players. My best friends in Vegas all work/worked for Card Player, and I love them all. Wow, so that's my story!!
One more thing… when I was going through my Myspace messages, I found this one and I thought it was hilarious. And FYI, "the palace" he's referring to is the tournament room everyone in Fort Wayne played at:
From: Landon Bowser
To: Kristy Arnett
Date: Sep 6, 2006 8:27 PM
Subject: Hey
Body: hey so whats up havent seen ya at the palace lately what u doing hidin girl! you need to go so u can teach me how to bluff everyone cuz thats all u do!
******
Good times. I hope you are all doing well!!
Kristy